---

---
Sunset viewed from Dhampus Holiday Home
| | | |
| --- | --- | --- |
| | DHAMPUS HOLIDAY HOME | |
How to get to the Dhampus Holiday Home Guest House :-)


This is a short but ideal trek to explore the village lifestyle and green forests in the country side of Nepal.
Situated at the lap of Mount Fishtail, Dhampus is only a 45 minutes taxi ride from pokhara and then 2 hours beautiful easy hike. It's a other world from pokhara, the walk passes many homes still working in very traditional ways, weaving, sewing crops with buffalo and planting rice by hand, it's a wonderful culture experience. Please watch movie "Highway To Dhumpus".
Once you arrive snacks are served from the fabulous menu and you can sit back in reclining chairs and just watch the sun set over 180 degree view of the Annapurna mountains, they are so close you feel like you can touch them !!!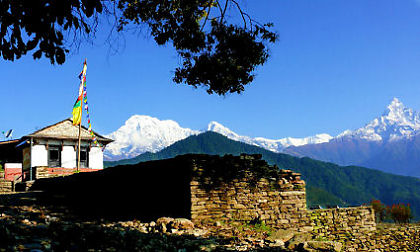 In winter months there is always a fire and music before eating traditional home cooked Nepalese food .... The sunrise is NOT TO BE MISSED ..... its totally spectacular !!!
Perched at a height of 1770 metres, Dhampus is generally cool, even during the summer months. The best time to visit would be between September and October when the sky is a deep azure blue and there are no clouds veiling the mountains. In this season, you will wake up to the chirping of birds and lay claim to the magnificent vision of sprawling mountain ranges, seemingly right outside your window. Of course, a lot depends on your own preferences.
Dhampus is a small settlement of Gurungs, one full days
walk from Pokhara. It offers spectacular mountain scenery and takes you north of Annapurna & Mt. Machhapuchhare (Fishtail) ranges. This region is heavily settled and farmed. Trekkers can have views of mountains from Dhaulagiri, and Annapurna, including the magnificent Mt. Machhapuchare (Fish Tail), Dhaulagiri, Lamjung Himal and many other peaks of Annapurna and Dhaulagiri Region.
This is not only a remarkable trek, but one of the most popular treks in Nepal. It passes through beautiful country side inhabited by highly diversified communities of people. This region is settled by the mid hills tribe "Gurungs". Gurungs are the famous Gurkhas soldiers in the British, Indian, and Nepalese Army.
The rooms in Dhampus Holiday Home are mountain style , beautifully clean .... they have 24 hour hot water. Also two new deluxe rooms with spectacular views of the Annapurna mountains.
The whole house has over 3 years been extended and hand crafted by an old Nepali artist.... the result is an incredible work of woodcarving arts .
Easy Booking: Peace Eye Guest House
Double rooms –6oo RS per room per 2 people
Deluxe rooms -1000 RS per room per 2 people