---

---
Domestic Flights and Airlines
There are several domestic airlines operating an extensive network of air service in the interior parts of Nepal.

Yeti Airlines, Tara Air, Buddha Air, Sita Air, Gorkha Airlines and Agni Air operating daily flights between 6 to 10 am to those remote airstrips such as: LUKLA, JOMSOM, TAPLEJUNG, DOLPA, and other places.
Nepal's domestic airlines network includes some of the most remote and spectacular airstrips in the world. The approaches to these airstrips are difficult. Many are on mountain sides surrounded by high peaks. Therefore, if there are clouds or high winds, the pilot cannot land. The classic remark by one captain explains the picture perfectly: We don't fly through clouds because in Nepal the clouds have rocks in them'. Yeti-Airline
Domestic service in Nepal is famous for delayed or cancel due to weather or technical problem however since regulation of the domestic airline business there are number of private companies operating flights who provide better service and are far more reliable then government owned Royal Nepal Airlines. Some of airstrips; Lukla gate of Mt. Everest Region, Jomsom Airstrip, gate way of Mustang, Dolpa Dunai, Manang, Taplejung, Simikot, Phaplu are the most remote Airstrip in Nepal, Perhaps the world's.
During the summer rainy-season, from June till mid September, airlines do not operate flight due to heavy monsoon rain and clouds. From mid September the monsoon stops, weather changes and becomes clear, the main trekking season begins and a lot of individual trekkers and organized groups fly to those airstrips for trekking.
Please be careful, by which domestic airline you are flying:
Agni-Air plane recently crashed down, killing its passengers!
The photo on far right side was taken one month after the crash

On Monday morning 14 May 2012, an Agni Air (Dornier 228) crashed while attempting to land at Jomsom airport, killing 15 of 21 people on board. Six passengers miraculously survived, police said.
The ill-fated plane had flown from Pokhara with 18 passengers (16 Indian pilgrims and 2 Danish tourists) and 3 crew members on board when it crashed at 9:46 am (Nepali time) while trying to land at the mountain airstrip in Jomsom -a famous trekking and tourist destination, trekking gateway to the Annapurna mountain range.
Pokhara Airport officials reported the crew had reported a technical problem on approach to Jomsom airport, and decided to turn around (in a curve) for flying back to Pokhara. The aircraft turned back inside Jomsom Valley but hit the side of a hill. The right wing struck the hillside and the plain crashed into the mountain. It has been said that the aircraft turned into pieces but did not catch fire. As per the experts, the plane was crashed due to the fault of pilot. The plain-wreckage has been removed now.
http://www.ibtimes.com/nepal-plane-crash-kills-15-698184
Indian Embassy officials in Kathmandu confirmed that 13 of those killed were Indians. The pilot and co-pilot have also been reported to have died in the accident.The six people injured including two children, two Danish nationals and the flight stewardess were airlifted to Pokhara where they have admitted to the Manipal College of Medical Sciences.
According to Agni Air officials, the aircraft was 11 years old. In August 2010 another Dornier aircraft belonging to the six-year-old airlines had crashed in Makwanpur killing all 14 passengers. With this, the number of plane crash in Nepal has reached 71. It was fifth plane crash in Jomsom area.

Tara-Airline Crash - February 24, 2016
Feb 24, 2016 -- Tara Airline said its missing aircraft 9N-AHH, which took off from Pokahra on its scheduled flight number TA 193 to Jomsom at 7:50 am (a 20-minute flight), was found crashed in the Solighopte hill, near the village of Dana, Tirkhe-Dunga (Myagdi District). The plain had lost contact with the Pokhara Air Traffic Control (ATC) 10 minutes after departure at 7:50 am.
All 23 passengers including two children and a team of three crew members on board the ill-fated Tara Air Twin Otter where killed.
Tara Air is a subsidiary of Yeti Airlines, a privately owned domestic carrier founded in 1998 which services many remote destinations across Nepal.
The Tara Air flight from Pokhara to Jomsom -- about a 20-minute flight -- was carrying three crew and 20 passengers, including a Chinese national and a Kuwaiti. All the others were from Nepal and two of them were children.

The crash site in Myagdi district is around 16,000 feet (4,900 metres) high in the Himalayas and can only be reached on foot or by helicopter. The crash site on Solighopte hill is around seven kilometres walk from Dana village (Tirkhe -Dunga).
Among the deceased, two were foreign nationals—one Chinese and one Kuwaiti. All others, including three crew members and two children, were Nepali nationals. The cabin crew members were identified as captain Roshan Manandhar, co-pilot Dikesh Nemkul and airhostess Rama Rawat.

Captain Roshan Manandhar, the senior most pilot with the airline, had flown the brand new plane from Canada to Nepal to add to Tara Air's fleet in September 26 last year. Manandhar, 55, had logged more than 21,000 hours of flying experience in Nepal.

A resident of Dallu, Manandhar was associated with Tara Air for the last 21 years. He was associated with Nepal Airlines before joining Tara.

Captain Dikesh Nemkul, 25, a resident of Patan Dhoka, had started his flying carrier from Tara Air.
http://indianexpress.com/article/world/world-news/nepal-plane-missing-kathmandu-pokhara/
http://www.nepalitimes.com/blogs/thebrief/2016/02/24/twin-otter-crash/
http://kathmandupost.ekantipur.com/news/2016-02-25/tara-air-plane-crash-photo-feature.html
http://www.channelnewsasia.com/news/asiapacific/emergency-workers-find/2547846.html
http://www.npnewsportal.com/tara-airs-9n-ahh-aircraft/
http://ktla.com/2016/02/24/plane-crashes-in-nepal-all-23-on-board-feared-dead/
http://www.financialprospect.com/world/nepal-air-crash-23-passengers-killed-including-2-foreigners-23355.html
http://nysepost.com/wreckage-of-missing-plane-found-in-nepal-all-23-aboard-dead-133198
http://www.myrepublica.com/feature-article/story/37671/body-collection-work-resumes-to-be-airlifted-to-pokhara.html
Tara Airlines plane crash site in Thasang,
Nepal's Mustang district
early Sunday, 29 May 2022
The wreckage of a Twin Otter aircraft, operated by Nepali carrier Tara Air,
was strewn on a mountainside, near Lete, in Mustang a day after it crashed.
Nepal Tara-Air Plane Crash: all 22 onboard found dead, including 3 Nepali crew members, 4 Indians, 2 Germans and 13 Nepali passengers. No survivors have been found from the Tara Airlines plane that crashed in Nepal's mountainous Mustang district on early Sunday, 29 May 2022, according to Nepalese media reports. The aircraft was flown by Capt. Prabhakar Ghimire and Co-Pilot Utsav Pokharel.
The Twin Otter 9N-AET plane belonging to Nepal's Tara Air took off on Sunday morning, 29 May 2022, at 9:55 am from Pokhara, and lost contact with the control tower 15 minutes later, according to an airline spokesperson. The aircraft was scheduled to land at Jomsom Airport in the Western mountainous region of Nepal, after a scheduled 20-minute flight. The aircraft lost contact with the tower from the sky above Ghorepani on the Pokhara-Jomsom air route, aviation sources said.
This handout photograph taken on May 30, and released by the Nepal Police shows the wreckage of a Twin Otter aircraft, operated by Nepali carrier Tara Air, laying on a mountainside in Mustang, a day after it crashed. AFP
The wreckage of a plane was found in Nepal's mountainous Mustang district (Lete) on Monday. Nepal Army Spokesperson Brigadier General Narayan Silwal informed that the missing aircraft was found in Sanosware, Thasang-2, Mustang, which is near Jomsom airport. The turboprop Twin Otter 9N-AET plane operated by Tara Air had lost contact minutes after it took off from the tourist city of Pokhara around 10 am on Sunday. The missing plane was found 24 hours after it crashed.
Crash site
:
Sanosware, Thasang-2, near Lete,
in Mustang district at the height of 14,500 feet
.
Sudarshan Bartaula, a spokesperson of Tara Air, said: As the bodies have been scattered over a 100-metre radius from the main impact point, the search and rescue team is collecting them." There was no fire. The plane slammed into the mountain breaking into pieces, said Bartaula. The impact has blown the bodies all over the hill, he said. The photo posted on the social media site shows the tail and one wing of the aircraft remain intact.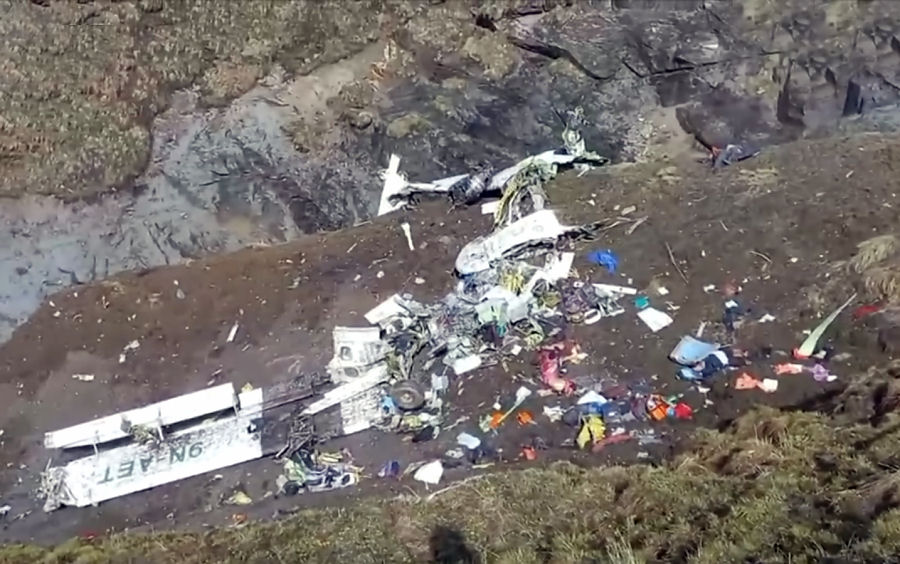 The airline and the Civil Aviation Authority of Nepal on Monday afternoon released the names of the deceased:
3 Nepali Crew members: Captain Prabhakar Prasas Ghimire, co-pilot F/O Utsav Pokharel and air hostess Kishmi Thapa.

4 Indian passengers: Ashok Kumar Tripathi (husband), Vaibhawi Tripathi (wife), Dhanush Tripathi (son), Ritika Tripathi (daughter).
2 German passengers: Meike Grit Graf, Uwe Willner.

13 Nepali passengers: Basant Lama, Prakash Sunuwar, Indra Bahadur Gole, Purushottam Gole, Rajan Kumar Gole, Ganesh Narayan Shrestha, Rabina Shrestha, Rashmi Shrestha, Rojina Shrestha, Makar Bahadur Tamang, Rammayatamang, Sukumaya Tamang, Tulsa Devi Tamang,
The airline and Civil Aviation Authority of Nepal released the names of the deceased
Jomsom is a popular tourist destination with trekkers because of its starkly beautiful snow-capped mountains. Buddhist and Hindu pilgrims from India, Nepal and other countries also visit to pray at the Muktinath Temple. Many tourists from all over the world visit Muktinath for its beautiful trekking routes.
Nepal, home to eight of the world's 14 highest mountains, including Everest, has a record of accidents on its extensive domestic air network, with changeable weather and airstrips in difficult mountain locations.
Mustang (from the Tibetan Muntan meaning "fertile plain") the traditional region is largely dry and arid. The world's deepest gorge that goes down three miles vertically between Dhaulagiri and Annapurna mountains runs through this district.
Image shows a Tara Air DHC-6 Twin Otter, tail number 9N-AET, in
Simikot, Nepal, on December 1, 2021. Madhu Thapa/handout via Reuters
In 2016, a Tara Air plane crashed while flying the same route as the one that disappeared on Sunday. None of the 23 passengers and crew members on that flight survived.
In March 2018, a US-Bangla Air crash occurred at the Tribhuvan International Airport, killing 51 people on board.
A Sita Air flight crashed in September 2012 while making an emergency landing at the Tribhuvan International Airport, killing 19 people.
A plane flying from Pokhara to Jomsom crashed near Jomsom airport on May 14, 2012, killing 15 people.
Tara Air is the newest and biggest airline service provider in the Nepalese mountains, according to the airline website. It started its business in 2009 with the mission of helping develop rural Nepal.
✝
Om Shanti - May all the departed souls attain Moksha
✝
Yeti-Airline starting from Jomson airport - Yeti-Airline landing at Pokhara airport
To enlarge video, click on the right side arrows